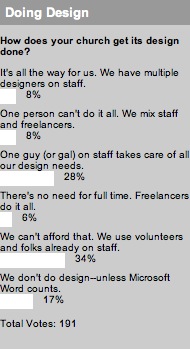 Last week, we wanted to know how your church goes about doing its design. Full time? Part time? No time? Here's how you broke it down:
34% of you can't afford design. Two and a half years ago, we discussed this to frenzied commenting. Go back in time and check it out.
Almost as many of you have one full time designer on staff. That's 28% of churches that devote part of their budget to keeping someone on staff. I imagine you make sure this person can do both web and print in order to avoid having to pay someone else extra? Rounding out the top three are the 17% of you who don't do design. Eeeeek. Some sort of design is always a good thing. Might I suggest our Job Lab? Even if it's just enough to keep people's attention. You don't have to "wow" anyone, but you shouldn't scare them, either.
8% of you have multiple designers on staff. Wow. Maybe a web person and a print person? Three cheers to being devoted to design, we like that. Another 8% of you mix staff with freelancers to give your staffers a little help–an awfully nice thing of you to do.
Rounding out the list are the 6% of you who only use freelancers. I honestly thought this number would be much higher, it sure seems like freelancers are everywhere. If you're looking to use one, let them know in our Freelance Lab.
Any small churches full of design staffers? How about large churches without a design staffer? My feeling is that, as usual, the group you're trying to reach out to is the most important factor in making this decision.
This week, let us know which presidential marketing tactic would you most like to use for your church?