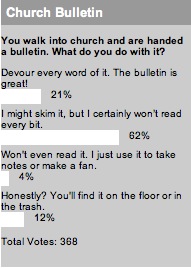 Last week, we asked exactly what you do with the church bulletin when you get it. You spoke out in big numbers, and it looks like the bulletin is staying.
62% of you may skim it, but you won't be reading every bit. This solidifies the bulletin's place as an effective method of conveying news. Folks will at least look at the bulletin for information pertinent to them.
Another 21% of you will devour every word of it, and you might even save it for bathroom reading material. You're a stalwart fan of bulletins, and you wouldn't have it any other way.
12% of you send the bulletin straight to the floor. If you need to find something out, you'll get it through some way other than the bulletin–word of mouth, email etc.
A final 4% of you won't read it, but you might use it to take notes or make a fan. So the bulletin is useful, just not as a method of conveying information. This is obviously a small minority, so don't just start giving out fans quite yet.
This week, we're wondering would you pay for church content over the Internet?