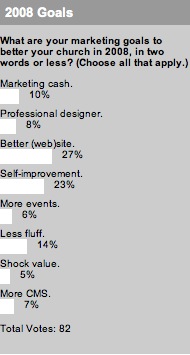 Last week, getting ready for the New Year, we wanted to know your church marketing goals for 2008. Here's what you had to say …
The largest portion of you, 27%, are looking to improve your web site. Face it, your site might be the key piece to marketing your church. Check out here, here, here, here or here to see that we agree.
Another 23% of you are going for self-improvement. If your church follows God more closely and improves, then marketing will take care of itself. If you need permission from anyone to do this, consider it given. Self-improvement is a must.
14% of you are hoping for less fluff. What fluff will you be eliminating? Will you be replacing it with anything else? Slightly less, 10% of you, are looking for some extra cash. Just remember the group above you and don't use more cash for more fluff. That's no good.
8% of you are in want of a professional designer. Might I suggest our Job Lab? OK, good. You can post your need for a designer there, and they'll come to you. 7% of you are looking for more CMS in the new year. We'll do our best to scratch your itch in 2008.
Bringing up the bottom of the barrel are 6% of you hoping for more events. Parties, services, outreaches, polka masses, potlucks … the whole shebang. Finally we've got the 5% of you looking for some shock value. But when people sue you, condemn you and riot at your church … we might not claim to know you.
This week, we're asking a simple question: How does your church get its design done?