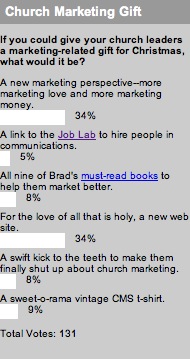 In the spirit of Christmas, we asked you what church marketing gift you most wanted to give your church leaders this year. Here's what you said:
There was a tie at the top. 34% of you wanted to give them a shiny, new marketing perspective. They just don't get this whole marketing thing, and you hope Santa Claus can convince them otherwise. Another 34% of you want a new web site. If you're web site is all off-kilter, then you probably need to give them a new marketing perspective as well. That one is kind of a two-for-one deal.
9% of you want to give a rockin' awesome old-school CMS tee. Write your Congressman and rally the troops. If we see enough support, maybe that's something that could happen in the future.
8% of you want to pass on all of Brad's nine must-read books. Apparently your church leaders need the gift of a way to fill time, since they have enough to read nine books. Tied up with them are the 8% of you who just want to find a way to make them shut up about church marketing. After all, going overboard with church marketing talk can really put a damper on holiday spirits.
Finally, 5% of you want a link to the Job Lab. Your wish is our command. Copy and paste this: http://jobs.cfcclabs.org into your e-mail client, type in an e-mail address and hit send. Wow, Christmas will come early for some church leaders!
This week, we ask the question, what do you want CMS to give you for Christmas?