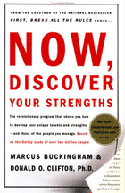 About six months ago, I started a book with the intention of reviewing it here. Today, I finish that journey. That's not, however, a shot at the quality of the book.
In Now, Discover Your Strengths, Marcus Buckingham enumerates his theory that it's better to spend energy maximizing your strengths than to spend energy trying to fix your weaknesses.
The Good:
The theory in and of itself is brilliant. Many of you have probably heard his example that a child comes home with his report card. He has an A in English, a B in math, an A in social studies, and a D in science. What do his parents do? They chastise or make efforts to work on his science grade.

Buckingham claims this is the incorrect approach. His idea is that we all have abilities and strengths. A strength becomes an ability only if you can fathom yourself doing it repeatedly, happily, and successfully. While this child has a natural ability to do his science work, it is not his natural strength, and thus, he should emphasize maximizing his strengths.
The Bad:
By the end of the book, there's no way you've missed the point. It's a little laborious and tiring to read at points, especially the middle of the book, an exposition on each individual aspect of the Gallup StrengthsFinder Test.
The Free:
With the book, you get to take the Gallup StrengthsFinder Test for free to find your top five strengths. I'm ideation, self-assurance, futuristic, activator and learner. Pretty interesting to assign words to the things you know deep inside, and find out some new things as well.
The Quotes:
To develop a strength in any activity requires certain natural talents.
The key to building a bona fide strength is to identify your dominant talents and then refine them with knowledge and skills.
You can acquire some materials, your knowledge and skills, with practice and learning; others, your talents, you simply have to hone.
The Summary:
All in all, I would say that anyone with human DNA should read this. It's useful for managers because you can see the talent in your organization. It's useful for individuals because you can see exactly what you are best at. I don't really see anyone who shouldn't read it.
Has anyone else read this or gotten to take the StrengthsFinder? What'd you think? What strengths do you have?