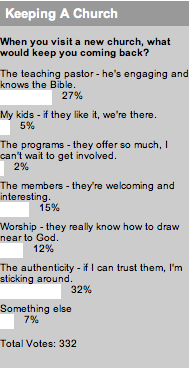 This week we asked what it would take to keep you returning to a church that you visited. This was our third part in a semi-series about leaving and finding a new church. Here's how you finished up the series:
The leading factor in returning to a church is its authenticity. If you can trust them, you'll stay around. 32% of you say authenticity would keep you coming back. Slightly less of you, 27%, would come back based on the teaching of the pastor.
15% of you would keep coming back based on the members–how engaging they are, how fun they are and the like. And 12% of you want a church with solid worship music. Singing to God obviously gets you fired up, and that's what would keep you at a church.
Only 5% of you would focus primarily on what the church brings to your children, and only 2% on what programs the church offers. I'll be honest, these numbers are surprisingly low to me. 7% of you said that 'Something Else' would keep you coming back.
So it looks like most often, based on the last three weeks, most of you leave church because they forsake scripture for relevance, find a new church by checking the web site of local churches and keep coming back based on the authenticity of the church. That's purely scientific, of course.
Let us know in the comments if these three weeks surprised you or affirmed what you believe. Also, what did we leave out? This week, we celebrate our 100th poll! Make sure to weigh in!