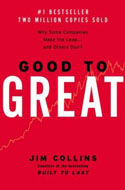 Can a good company become a great company? And if so, how? That's the premise of Jim Collins' Good to Great, and he answers that question with five years worth of research. He looked at companies that were doing good for a while (at least 15 years) and then something changed and they did great for a while (at least 15 more years). He rigorously studied those companies and distilled a few common lessons that can be applied to any organization.
And if it all sounds a little too business oriented, then you should check out the mini-sequel, Good to Great and the Social Sectors. The lesson there is that all the same lessons apply to non-profits (including churches) because they are lessons in how to be great, not lessons in how to do business.

A quick overview of Collins' lessons:
Level 5 Leadership – Contrary to popular opinion, truly great leaders don't have high profiles and big personalities. Collins created a leadership hierarchy, with 5 at the top, and those type of leaders are humble, reserved, shy. They don't showboat, they don't want the credit–they just want to get the job done. They are servants, truly focused on growing the organization, not themselves. It's an interesting description, especially considering the landscape of high profile pastors.
First Who… Then What – Great companies first get the right people on the bus and the wrong people off the bus, and then figure out where they're going. Rather than decide on your vision and then find people to fulfill it, find amazing people and then develop your vision together. This one strikes me as one of the hardest to achieve–it seems so backwards to put such trust in people.
Confront the Brutal Facts – Great organizations confronted the difficult facts. If your church wants to be great you can't ignore the fact that 88% of youth group members don't attend church after graduation. You can't ignore that the churches don't have the same place in society they once did. The facts may be overwhelming, but the only way to carry on is to deal with them.
The Hedgehog Concept – In a nutshell this is about figuring out what you're good at and doing it. Not every church is the same and some churches are better at some things than others. The wisdom here is to not be all things to all people, but to figure out what group of people your church can reach that no one else can and go after them.
A Culture of Discipline – Discipline is the key to avoiding hierarchy, bureaucracy and excessive control. A disciplined staff gets things done and there's less management required.
Technology Accelerators – Great organizations know that technology itself never makes anything great. It's the careful use of technology that can make a difference. Great churches need to figure out how select technologies can help them, and put those technologies to work. It's about putting a tool to work, not admiring the tool.
The Flywheel – This is my favorite lesson. No one action made any of the companies Collins studied great. There was no brilliant idea that started it all. It was 1,000 brilliant ideas. It was a ton of consistent effort of pushing the flywheel, again and again and again before it finally built up enough momentum and started to take off. You have to keep at it. And it will probably take years.
That's the quick and dirty overview. It's a powerful insight into what it takes to make any organization great. Of course it's not easy. It takes a lot of clear thinking, a lot of bold decisions, and a ton of hard work over time.
Once you've read Good to Great and are trying to figure out what it means for your church, you should really read Good to Great and the Social Sectors. It covers everything from how to determine "great" without business metrics to working within the power structure of a non-profit. And the bonus is it's a breezy 35 pages.
The bottom line is that it's good wisdom for the church. We weren't called to merely exist, we were called to do amazing things. That requires greatness. Not for our own glory, but for the glory of our cause.
Update: And for some very specific application to the church, check out the Leadership Journal interview with Jim Collins.