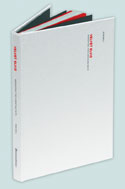 "The thought of the word church and the word marketing in the same sentence makes me sick."
That's from page 99 of Rob Bell's Velvet Elvis: Repainting the Christian Faith. So you can see why I had to finally read the book. Of course the last time we talked about Rob Bell and Velvet Elvis we got 26 heated comments, mostly either attacking or defending Rob Bell and his church. Let's be a little more civil this time around, eh?
Rob Bell founded Mars Hill Bible Church in Grandville, Mich. while in his 20s and the church exploded, bringing in over 1,000 people the first day. All of that without any "marketing" as Bell would say, because it makes him sick. But we'll get to the marketing. Bell also teaches in the Nooma series of short films that can be used in church services or small groups. You could also describe Bell with that hard to define, catch-all emergent label—so you can take that however you like.

Velvet Elvis is all about re-thinking. Re-thinking everything. Bell wants us to think about Christianity in a new way, to re-discover it. He's big on questions. The main point of his book is that Christianity is constantly changing. It's always growing, stretching and transforming. God doesn't change, but how we explore and approach our faith does.
Bell makes the comparison to art (hence the book's title) and how an artist doesn't paint the same thing over and over again. Nor do artists stop and decide that all the great art has been created so they're done. Instead art is always growing and expanding. There are new ways to do art. Understandably, not everybody wants or needs modern art. A lot of people don't get it. And that's OK. But some people do need new ways of doing art. That's how Rob Bell sees Christianity.
That's also where lots of folks like to tear Bell apart. He's willing to ask questions about basic assumptions of Christianity. Like having a "personal relationship" with Jesus or "inviting him into your heart." Those phrases aren't biblical. But some people act like they are. He also points out that people have used the Bible to support all sorts of terrible things (slavery, racism, sexism, etc.) and now most people have decided those were poor interpretations of the Bible. Everything in the Bible has to be interpreted, and sometimes we screw it up. So it makes sense to question those interpretations from time to time, to test them and see if they still stand up.
What I really like about Velvet Elvis is that Bell takes those questions and dives into the Bible. He brings a level of cultural context to the Bible I've rarely heard before, helping us understand how certain passages were written or how the readers at the time might have understood them.
He also has some great nuggets, and I couldn't help but pull out a few:
"Christian is a great noun and a poor adjective." (84)

"Jesus' desire for his followers is that they live in such a way that they bring heaven to earth. What's disturbing then is when people talk more about hell after this life than they do about hell here and now. As a Christian, I want to do what I can to resist hell coming to earth. Poverty, injustice, suffering—they are all hells on earth, and as Christians we oppose them with all our energies. Jesus told us to." (148)

[It's about relationships and experiences—actions—more than it's about arguments or proof:] "This is why so many passages about the early church deal with possessions and meals and generosity. They understood that people are rarely persuaded by arguments, but more often by experiences." (164)

"The church doesn't exist for itself; it exists to serve the world. It is not ultimately about the church; it's about all the people God wants to bless through the church. When the church loses sight of this, it loses its heart." (165)

"Most of the messages we receive are about how to make life easier. The call of Jesus goes the other direction: It's about making our lives more difficult." (169)
On to the Marketing
And now we can talk about Bell's take on marketing. I wanted to go through everything above because I don't dislike Rob Bell or Velvet Elvis. I liked the book and I'd hate for my criticism of one single sentence to turn anybody off.
But rather than take a single sentence, let's give it a little context:
Please realize that to this day I have never read a book on church planting or church growth. I remember being told that a sign had been rented with the church name on it to go in front of the building where we were meeting. I was mortified and had them get rid of it. You can't put a sign out front, I argued; people have to want to find us. And so there were no advertisements, no promotions, and no signs.

The thought of the word church and the word marketing in the same sentence makes me sick.

We had these ideas and these dreams, and we went with them.
I think Bell is falling into the typical argument against church marketing—that we see so much deceptive, awful marketing out there that we assume marketing can only be deceptive. But the problem is that's just bad marketing. You don't discount the idea of preaching based on one bad preacher.
I think Bell also embraces a much more relational and journey-centric idea of Christianity. With relationship at the core of his church's DNA, a sign out front might not make sense. That's fine, don't use a sign.
I think what Bell is missing is that marketing—especially church marketing—comes in more forms than signs and advertising and demographics. It comes through in every choice you make, from the decision to have a web site (Mars Hill does), to not have a sign, to cancel a Christmas service, to how a bulletin should look, etc. That's marketing. Whether or not you choose to actively think through the look of that bulletin, it's still marketing. Opting not to think about the look of the bulletin is just bad marketing (or opens the door for bad marketing, I suppose it's possible—though not likely—to nail a great bulletin without thinking about it).
Marketing happens. So you better put some thought into it. But don't tell me that church marketing makes you sick. You can say bad church marketing makes you sick—dishonest, manipulative, fake church marketing. And I'd agree. It sucks.
Lighting doesn't make you sick. Bad lighting does.
Preaching doesn't make you sick. Bad preaching does.
Coffee doesn't make you sick. Bad coffee does.
OK, so that last one is a little off, but you get the point. Church marketing sucks because so often it's bad, not because it's inherently bad.
And I keep saying 'I think' because Bell doesn't spend much time on church marketing. He quickly moves on and doesn't really explain his position. So I could be wrong and he has other issues with church marketing. At any rate, we're all trying to see this broken vessel that is the church actually reach the least, the last and the lost. And that doesn't suck, no matter what you think of marketing.
Let me end with a powerful passage near the end of Velvet Elvis:
One of the central metaphors for God and his people throughout the Bible is that of a groom and his bride. God is the groom; his people are the bride. I like this because it makes the church a "she". We need to reclaim this image.

The church is a she.

She's a mystery, isn't she? Still going after all this time. After the Crusades and the Inquisition and Christian cable television. Still going. And there continue to be people like me who believe she is one of the best ideas ever. In spite of all the ways she has veered off track. In spite of all the people who have actually turned away from God because of what they experienced in church. I am starting to realize why: The church is a double-edged sword. When it's good, when it's on, when it's right, it's like nothing on earth. A group of people committed to selflessly serving and loving the world around them? Great. But when it's bad, all that potential gets turned the other way. From the highest of the highs to the lowest of the lows. Sometimes in the same week. Sometimes in the same day.

But she will live on. She's indestructible. When she dies in one part of the world, she explodes in another. She's global. She's universal. She's everywhere. And while she's fragile, she's going to endure. In every generation there will be those who see her beauty and give their lives to see her shine. Jesus said the gates of hell will not prevail against her. That's strong language. And it's true. She will continue to roll across the ages, serving and giving and connecting people with God and each other. And people will abuse
her and manipulate her and try to control her, but they'll pass on. And she will keep going.