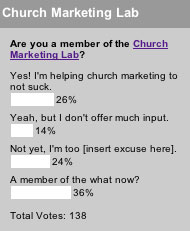 Last week we asked about the Church Marketing Lab, our church communications critique group that replaced the old peer review section. 26% of you are members of the lab and are helping church marketing to not suck. You people rock. Thanks for taking the time to help churches get better.
What's not as encouraging are the 36% who aren't even sure what the Church Marketing Lab is. Or the 24% who have some excuse for not checking it out. That's 60% who aren't taking an easy opportunity to help the church. I guess that's better than the 70% we saw earlier in the week, so we'll take that as an improvement. 23 more people signed up this past week, bringing the total to 195.
If you don't know what the Church Marketing Lab is or haven't taken time to check it out, please do. It's a community of people who want to help churches, hosted on the photo-sharing site Flickr. If you're not sure how to get started, you can read detailed instructions for how to offer feedback and post your own work. It's easy and it helps churches communicate better, which can lead to lives changed.
OK, I'll stop now. This week we're asking if your church is wired, fired or tired.