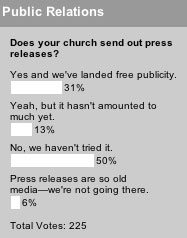 Last week's poll asked about church press releases and offers some interesting numbers. Half of churches haven't even tried press releases, but 31% have tried them and scored some free publicity. Only 13% tried them but haven't had much success.
Press releases may be a strategy worth trying. For more on press releases, check out the basics and what not to do. And don't forget the words of Larry Ross, Billy Graham's publicity man: "Jesus always asked, 'How can I help you?' Dealing with the mainstream media is all about knowing what they want and figuring out how you can help them get it, which works to your advantage."
This week we ask about the most popular word of 2005: podcasting.