This makes me happy: Today's peer review takes us beyond web sites and print and into the world of radio. Share your suggestions and feedback in the comments.
Samples:
Radio commercial:
"I'm going to a church that doesn't suck…" (260 KB .mp3, 1:06)
Newspaper ad: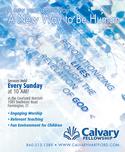 Notes:
Calvary Fellowship
West Hartfort, Conn.
created by Bill LaMorey
Calvary Fellowship is a six-month-old church plant that has attendance in the teens. They've recently switched locations and are planning to do some advertising, initially trying to promote their Christmas Eve service. They ran a print ad in community newspapers (targeting young families) and printed 10,000 high quality invites that they'll hand out in person.
They also put together a radio spot which will run on a local rock station (it's a modern hard rock station with some classic rock that carries the Howard Stern Show and plays everything from Pink Floyd to Nirvana to Aerosmith to Slipknot). They hope to attract younger people who have left the church or those who have never been to church.
They are considering doing more radio advertising for their next series (that's what the newspaper ad promotes) and would appreciate feedback on how to make the radio spots better. The Christmas Eve radio spot will run Dec. 19-24, so there is a small window where feedback can be implemented.
Questions:
What do like about their overall approach?
What would you do differently?
What do you specifically like about the radio spot?
Does it reach its intended audience?
What would you change about the radio ad?
What do you like about the newspaper ad?