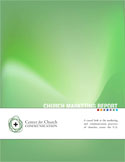 You can score a free 8-page Church Marketing Report over at the Center for Church Communication. And yes, we are a part of the Center for Church Communication, so yes, we are tooting our own horn. But you get a free report out of the deal, so what's the problem?
The report was compiled from an online survey of over 500 churches taken this past summer and has some juicy details, including:
76% of churches aren't documenting or tracking the results of their marketing.
63% of churches said marketing and promoting their church was important or extremely important.
80% of churches spend less than $10,000 on marketing and promotions each year.
59% of churches were dissatisfied or ambivalent about their web sites.
It's not Barna material by any means, but it is some interesting stuff.