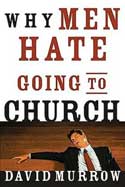 48 million women attend church every week while only 35 million men do. That's a gender imbalance of 13 million people, and a reason why churches need to become man-friendly–according to David Murrow, author of Why Men Hate Going To Church.
"[Murrow] concluded that today's church culture favors, even expects, participation in intimate, nurturing behavior such as singing, hand-holding, sitting in circles and sharing feelings. Many men feel uncomfortable in such an environment and choose not to go." (Washington Post)
Murrow offers seven principles to becoming a man-friendly church, or you can dive into his Church for Men web site.
(Quite frankly, all I can think of when I hear the term "man-friendly" is Kelso from That 70s Show saying, "I'm what you call 'man-pretty.'" I never watch the show but the local station carrying the reruns always plays that line in their promo commercials.)