I've been to a handful of local "farmers markets" around the U.S. and all of them are the same. Blocked-off streets in the heart of a small town, local merchants with chintzy tables selling everything from fresh vegetables and grilled meat to jewelry only found in flea markets. According to the U.S. Department of Agriculture, in a 2002 report, the number of farmers markets around the country has increased 79 percent since 1994.
I was with my wife tonight in San Luis Obispo, Calif. (for a little 4-day getaway a few hours from home). Once we figured out we were in SLO the same night as their weekly farmers market, we understood why parking was nowhere to be found and making a left turn was going to be impossible thanks to barricaded streets.
After a nice dinner together, we strolled the crowded town finding our way through sights, sounds, smells, and people of all shapes, sizes, and colors. The political climate was particularly intense as presidential backers and bashers were on every corner. Toward the end of the street, camouflaged with the rest of the merchants and across from the 500-foot grill cooking every part of a cow you could imagine, was something I have not seen at a farmers market before.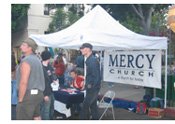 Fresh Air
It was a breath of fresh air and a slight frustration at the same time. The local Vineyard church, Mercy Church, had setup a booth to make themselves known to the community.
Excellent idea! Thanks Mercy Church for stepping out of the normal circles of promotion and doing something to support the local community you are in, as well as make yourself known to the very people you are there to serve. Thanks for not being loud, obnoxious saints with anti-abortion signs or Republican elephants to pass out. Thanks for investing of your time and money!
I imagine Mercy Church does this every week. If they don't, they should. Consistent presence will eventually reap consistent return. In this case, more visitors which hopefully turn into regular attendees.
Slight Frustration
My only frustration with their booth was that it was so un-engaging (see photo). A little backdrop with the church name was the only thing they did to "brand" their booth. They had a few handouts, but nothing worth giving a second look. If you're going to spend this much time and energy, spend another $500 – $1,000 and get a bigger/bolder backdrop and some cool handouts (postcards, business cards, etc). It would have made me notice that much sooner and possibly even go talk to you guys. Instead, I snapped a picture of the hum drum tent and looked across the street to the guys yelling chants every time they turned over the sizzling meat. Way more exciting and engaging.
Get a Booth
What would happen if your church setup a booth every week at the farmers market? Are you ready to make the commitment to your community? How about providing some live music in your booth (could your worship band do any non-Sunday stuff?)? What about getting your teenagers to hang out at the booth and add some of their flair?
Don't have a farmers market in your town? Get involved in something similar or see about starting something like it in your town. The crowds that make up events like these are so diverse — an excellent place to reach so many different kinds of people.
The community is ripe — even more than the bananas being sold right next to you.