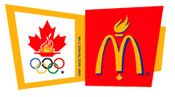 Despite the unusually quiet publicity, extremely low ticket sales, and impossible preparation feats the country of Greece is going through with this year's Olympics in Athens, corporate sponsorships remain strong. Over 1 billion dollars in sponsorships – 32 percent of the total IOC revenue – will flow from heavy weights like Coca-Cola, Visa, and Kodak. NBC expects to net a record $1 billion in ad sales for its television coverage of the games, with nearly 90 percent of its commercial inventory already sold. Sponsorships have kept the games going for many years. While Olympic-size marketing opportunities are often only available to the big spenders, your church can benefit big time from the concept of sponsorship.

What if you sponsored the local little league teams, Friday night Farmer's Market, or a free movie day in the local theater where you play all the classics? What if you teamed up with the local ice cream shop and gave away FREE ice cream? What if the youth group delivered all the pizzas for the local pizza place (for free) and didn't accept tips (in exchange for inviting the youth of the house to a free concert in the park)?
Partnerships can be a win-win scenario for both the sponsor and the sponsored. And it doesn't always have to cost money. It may be a mention in the bulletin, a banner in the parking lot, or use of the facilities on a weeknight. Or maybe a little of everything.
Get creative! Your church probably won't be displaying the five colored rings anytime soon, but you could build some goodwill, good exposure, and overall good name for your church. And while a good name won't send more people into heaven, it sure can be a good vehicle for building relationships with your local community.