We've been talking about events this month and I want you to know an important thing about those traditional events at your church:
It's OK to kill them. 
Seriously. Event-icide is not a crime.
Your church will not implode if that traditional event doesn't happen this year.
How do I know? Because my church killed our annual pancake supper that marks the beginning of Lent, and no hole opened in the ground sucking us all into hell.
The Example
Imagine my shock and awe when I saw this announcement in the bulletin: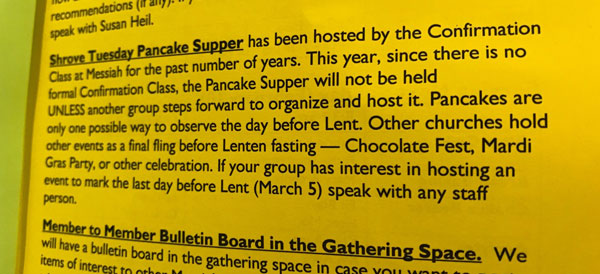 Shrove Tuesday Pancake Supper has been hosted by the Confirmation Class at Messiah for the past number of years. This year, since there is no formal Confirmation Class, the Pancake Supper will not be held UNLESS another group steps forward to organize and host it. Pancakes are only one possible way to observe the day before Lent. Other churches hold other events as a final fling before Lenten fasting—Chocolate Feat, Mardi Gras Party, or other celebration. If your group has interest in hosting an event to mark the last day before Lent (March 5) speak with any staff person.
OK, so maybe my church didn't actively kill our pancake supper, but we certainly took it off life support. We gave it a chance to live, but nobody stepped up.
So it died with dignity.
I don't know if there were any complaints about this choice, but the response was right there in the announcement: Step up and do it yourself.
Nobody did.
That's maybe a Minnesota Nice/passive aggressive way to kill it, but it worked.
The Benefit
Sometimes we have to kill the sacred cows. And the church has a lot of them. Especially when it comes to events.
'That's how we've always done it' is the standard response. But there's nothing biblical about doing it the same way all the time.
In fact, shaking things up can have some helpful benefits:
It opens the way for new ideas. That Chocolate Fest mentioned in the announcement above sounds pretty great. I want one of those (guess I better step up).
It can reenergize and reinvigorate your church. Something new can generate excitement.
It can bring new people into the process. Maybe new volunteers step forward or new guests show up, intrigued by something different.
It offers a chance to rest and reset. Killing an event and not replacing it offers a chance for your team to take a break.
So maybe it's time you killed an event.
Maybe it's a pancake supper, a potluck, or a missions dinner (we like to eat, don't we?). Maybe it's an annual men's retreat with dwindling attendance or a kids' night that's always struggling to get volunteers. Maybe it's the Easter sunrise service or the late night Christmas candlelight service.
Whatever event isn't working for your church any more, it's OK to kill it.
More: