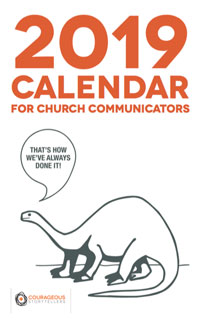 Welcome to the new year. Ready?
January can always be a bit overwhelming, but we can help you make it through this month and this year. We've got a  2019 calendar, complete with encouraging quotes and images specifically for you.
We've also included some helpful dates to keep you on track (Jan. 11 is 100 Days until Easter)—and some less helpful ones (June 6 is National Yo-yo Day).
Print it out. Yes, on actual paper (don't worry, it's recyclable). Tack up the entire thing on your wall or other flat surface. Every month you can take down a page. It's pretty neat.
Have an incredible 2019. You've got this.
A big thank you to Sheri Felipe for laying out this calendar and Kelley Hartnett for giving a great pep talk. If you need help with designs or pep talks, check out SheriFelipe.com and PepTalkBook. com, respectively.