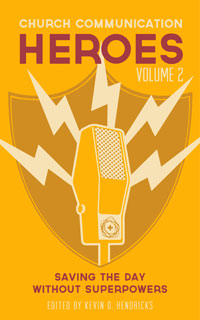 Church communication is a tough gig. Some days it feels like you need superpowers to get through it all.
But we don't have superpowers, do we? Instead we have to make the most of what we have and somehow save the day.
Find courage and inspiration by looking back at heroes who faced similar odds and had the same human limitations we do. Heroes such as civil rights pioneer Ida B. Wells or the creative genius Albert Einstein.
Church Communication Heroes Volume 2 chronicles 15 different heroes—writers, musicians, theologians, innovators, even a pirate—who can encourage us in our darkest days and challenge us to do our greatest work for the greatest story ever told.
Be the hero your church needs.
Get the Ebook Free
Download this free ebook today: Church Communication Heroes Volume 2: Saving the Day Without Superpowers.
Words of Wisdom
Be inspired and encouraged by some of the heroes we feature:
"Do not be afraid of mistakes, provided you do not make the same one twice." –Eleanor Roosevelt
"If you can't explain it simply, you don't understand it well enough." –Albert Einstein
"The way to right wrongs is to turn the light of truth upon them." –Ida B. Wells
"Time is not our own, and we must give a strict account of it." –Turibius de Mogrovejo
"Be a yardstick of quality. Some people aren't used to an environment where excellence is expected." –Steve Jobs
"I don't study to know more, but to ignore less." –Juana Inés De La Cruz
More:
If you like learning about heroes who have gone before, check out Church Communication Heroes Volume 1, our original volume that explores heroes including poet, lawyer, and priest Pauli Murray, civil rights icon Martin Luther King Jr., radio pioneer Aimee Semple McPherson, martyr Oscar Romero, and more.