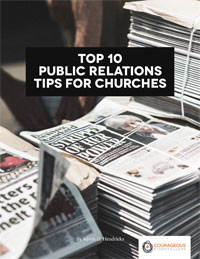 Too often press coverage can feel like an afterthought for churches. But we've got some tips to help you better connect with the press.
Our membership site, Courageous Storytellers, is offering a ton of super-practical help on public relations. These 10 general tips are just a start, but if you really want to go deeper check out the member resources from Courageous Storytellers.
Top 10 PR Tips
Here's the quick list, download our free resource for the full details:
Be newsworthy.
Be community-0riented.
Be careful.
Be honest.
Be friendly.
Be available.
Be quotable.
Be visual.
Be connected.
Be helpful.
More:
Trying to sort out a public relations mess? We can help. We've got all kinds of public relations resources for our Courageous Storytellers members. Join now to get access.