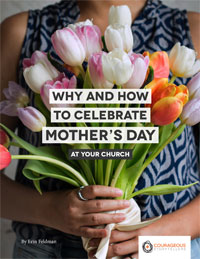 Every year, people pause to honor their mothers, biological and not, on the second Sunday of May. Churches often recognize mothers, too. But as they've acknowledged these women, they've sometimes discovered their actions embarrass, hurt, confuse, or alienate not only non-mothers but also mothers.
As a result, many churches question whether to mark Mother's Day. They don't want to harm anyone in their congregation or make them feel unwanted, unloved, uncomfortable, or less than. Rather, they wish for all people to know and experience the love of Christ.
Answering the question, though, isn't an easy "yes" or "no." Each church must think about its congregational makeup and local community to decide the best course for Mother's Day. It's also helpful to consider why people celebrate the day and ideas for how churches can go about it.
We cover both items here so that we make a decision that glorifies God and serves our people, both congregation members and guests.
Download Why and How to Celebrate Mother's Day now.
More: