It's the week of Easter. You made it. High-five!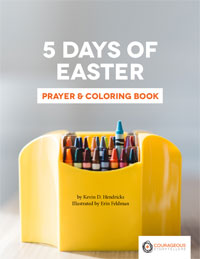 You're probably ready to take a nap. We get it. But before you collapse, you have to make it through the gauntlet of Easter services.
We're ready to help. But not with more marketing tips or last-minute ideas to add to your task list. Not now. It's too late for all that.
We've got two simple things for you to do:
De-stress.
Connect with God.
Grab your favorite coloring implement and enjoy a few pages of our Easter prayer and coloring book. Let the burden of planning the Easter season slip away.
Each page has a prayer and a picture to color. Take a moment as you color to pray for the people coming to your church, to pray for your pastor and your team, all your volunteers and the efforts that have gone into these services. It's been stressful, but take a moment to be thankful. To be reflective. To remember why you do it all.
You are sharing the greatest story ever told.
Don't let the stress of planning the Easter season keep you from celebrating the Easter season.
Together we pray…
Download 5 Days of Easter Prayer & Coloring Book now.
More:
Do you need more resources to help you get you through? We've got your back: