I've talked with church communicators around the country, and if I had to describe our tribe in one word, I'd use fried.
Y'all are a weary bunch. You love what you do, but you live at the intersection of Too Much (to do) and Not Enough (time to do it in). You're a bit frustrated and a lot tired. As I write about in You've Got This: A Pep Talk for Church Communicators, that frame of mind is a precursor to the fwoosh—which is the sound church communicators make when they go up in flames.
So, here's my suggestion: Play.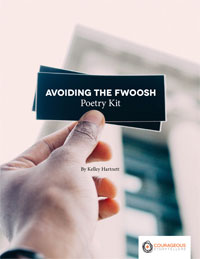 Yep, stop working for a few minutes and play. Mental health experts agree that play has remarkable benefits for adults. It helps us manage stress, reduces burnout (the fwoosh), and improves creativity.
The specific type of play you engage in doesn't particularly matter, as long as it's something you enjoy. Today, I'm going to recommend one of my favorite activities. It's a little nerdy, I suppose, but it's fun and creativity-enhancing. You ready?
Write some poetry.
WAIT! Don't you dare click away.
Listen, I don't love poetry either. I don't even really like poetry. But there are certain poetry-ish exercises that will help you avoid the fwoosh and stretch your creativity muscles. So let's give it a go, mkay?
Download the Avoiding the Fwoosh: Poetry Kit now.
More: