Church communication is hard. We get it. 
But you know what? You've got this.
That's the word from Kelley Hartnett in the new book, You've Got This: A Pep Talk for Church Communicators.
The book is full of practical ideas and real-world tips for surviving as a church communicator:
How to deal with pastors who don't get it and ministries who want it all.
More than bulletins, greeters, and calendars, it dives into the stuff that's really taxing: unmet expectations, perfection paranoia, and demoralizing doubt.
Laugh more: It can't all be tough issues and earnest heart-to-hearts. This book is funny.
It's a pep talk that's part hug and part first-bump.
You've Got This is available now in print and digital formats:
Buy Now: Print / Kindle / iBooks / Kobo / Nook
Free Sample
You can grab a free, 28-page sample of You've Got This. Take a look for yourself and see if this is the pep talk you need.
"Life is tough, but so are you." -Kid President
What's Inside?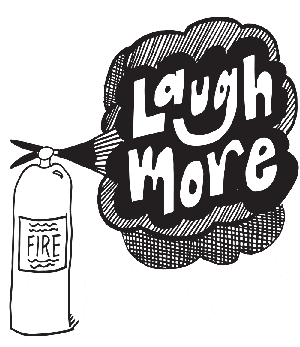 Each chapter includes quick, bite-size sections that explore the topic in a digestible manner:
You Know More Than You Think You Do, And You're Better Than You Think You Are
Some People Will Not Agree With You (And That's Totally OK)
It's OK to Say "No"
Avoiding the Fwoosh
Help! I Need Somebody Help!
Perfectionism
Yes, You Actually Are Creative
Plus, each chapter ends with some random fun and is punctuated with lively illustrations.
You've Got This offers high-fives, how-tos, and haikus.
About the Authors
Written by Kelley Hartnett and illustrated by Erica J. Hicks, You've Got This draws on a decade of working in established churches and launching new ones.
You've enjoyed Kelley's snark, humor, and grace as a guest blogger here on Church Marketing Sucks, as an instructor at our Intensive events, as the membership director for Courageous Storytellers, and now you can get Kelley in book form too.
Her honest and self-deprecating style is a perfect fit for this pep talk.
And yes, it's illustrated too. Erica's drawings bring a hand-made quality to this book, whether you're enjoying the digital or print versions.
Read This Book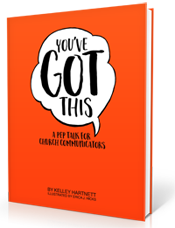 This book has been in the works for a long time, and we're super excited to finally share it with you. Over the coming weeks and months we'll be talking more about You've Got This and doing everything we can to make sure you check it out.
Not because we want to sell books, though that's nice. But we're a nonprofit. We've got a mission. We're here to support church communicators. You're telling the greatest story in the world, and you can do this.
Buy You've Got This Now: Print / Kindle / iBooks / Kobo / Nook