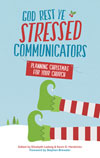 It's Christmas in July! You've got a full five months until Christmas, but now is the time to think about planning Christmas. For more Christmas help, check out our church Christmas ideas or our book, God Rest Ye Stressed Communicators: Planning Christmas for Your Church.
How does Advent play into your preparations for Christmas?
We asked four church communicators about Advent. Here's what they had to say:
Advent Devotional
Carrie Evans, communications director at Southbridge Fellowship in Raleigh, N.C.:
The past two years we have produced a Christmas devotional written by members of our church. We pass it out the last Sunday of November and it includes entries leading up to Christmas day. We create it all in-house so it's relatively inexpensive but gives an opportunity for members to serve with their gifts and a resource to keep families focused on Christ in a busy season.
Advent Study Guide
Crystal Kirkman, communications director at First Christian Church in Decatur, Ill.:
We provide Advent study resources to our church members. In the past, it's been a printed study guide inserted in their weekend bulletin. However, in recent years we've been sending study guides midweek by text with a link to the study guide or by email. (We have over 700 people who have signed up to receive the texts versus only 160 by email.)
Advent for Momentum
Meiko Seymour, community life pastor at Pinellas Community Church in St. Petersburg, Fla.:
We use Advent as a momentum builder. It provides context to the celebration that is Christmas. It also allows us to really walk through Scripture in a way that draws folks in because of the spirit of the season. It's all very pointed.
Preparing Hearts for Christmas
David Hansen, pastor at Spirit of Joy! Lutheran Church in The Woodlands, Texas:
While there are many things to do to get ready for Christmas worship—marketing, sermon writing, worship planning—Advent is the most important preparation. Advent is how we—as congregation and as ministry leaders—prepare our hearts for Christmas.
In the middle of the busy, loud pre-Christmas celebrations, the church's observance of Advent gives us the quiet space to reflect on how we prepare our spirit for the coming of Emmanuel.
More: