Halloween gets all the hype, but All Saints' Day is an actual church holiday we shouldn't forget. It was actually yesterday, Nov. 1, but it's not too late.
In Catholic tradition it's often a day to focus on official, uppercase Saints, but many traditions have used the day to remember and celebrate all those lowercase saints who have gone before us.
Why All Saints?
The whole idea of All Saints' Day is something I find great comfort in because it's a reminder that we're not blazing new ground. We're not the first ones to struggle. We're not the first ones trying to bring people into our churches. We're not the first ones exploring new technologies. We're not the first ones to fight the 'that's how we've always done it' mentality.
Yes, we have new struggles today. But there have always been challenges. Today it might be social media, but before it was radio. Today it might be a church website, but once upon a time it was the printing press. We might bemoan the divisive state of politics today, but the church has struggled through much worse throughout history.
There are heroes of faith we can look back to and find inspiration in. The technology may change, but the challenge doesn't.
It can be all too easy to feel like we're all alone, like no one has been in our shoes before. But we're not alone. We're not the first and we won't be the last.
Celebrate Your Saints
So take some time this week to remember and celebrate your saints.
Maybe your heroes are denominational giants who forged your current theology. Maybe your saints are classic church heroes. Maybe you look to cultural saints who are a little less than saintly but still inspire your work. Maybe you have personal saints who aren't known throughout the world, but made a world-sized impact on your life.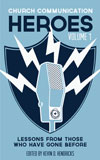 Over the past few years we've celebrated many of the heroes of church communication. We even put together an ebook telling many of their stories—Church Communication Heroes Volume 1: Lessons From Those Who Have Gone Before—it's a great place to start. You can also explore many of the profiles in our heroes series—here are a few examples:
A poet, activist, lawyer, teacher and priest, Pauli Murray refused to be pinned down: "What is often called exceptional ability is nothing more than persistent endeavor."

The martyr of El Salvador, Oscar Romero, communicated the truth in the face of injustice: "A church that doesn't provoke any crises, a gospel that doesn't unsettle, a word of God that doesn't get under anyone's skin… what gospel is that?"

Walt Disney worked in imagination, breathing life into wonderful ideas and making them reality: "The way to get started is to quit talking and start doing."

Writer Madeleine L'Engle merged science and faith, embracing the mysteries and welcoming the question 'why': "We draw people to Christ not by loudly discrediting what they believe… but by showing them a light so lovely they want with all their hearts to know the source of it."

Scientist Albert Einstein not only pushed the boundaries of physics, but he championed creativity, imagination and even failure: "Anyone who has never made a mistake has never tried anything new."
Finally, share your heroes. Tell your team. Write a blog post. Tell us in the comments below. Heroes can only be inspiring when we know about them, so let's talk up our personal saints.
More:
Check out more heroes in our series.
Spread the word about some of our church communication heroes with these shareable graphics: