It's the last week of our 10-year anniversary celebration. What a month it's been: all the discounts, all the conversation about whether or not we should still exist, those sweet T-shirts. But we're not done yet.
We've got a 10-Year Anniversary Hangout in a few hours. There's still time to snag one of those 13 lucky T-shirts (Wait… what's this? A 14th T-shirt? Huh. I wonder what we should do with that?). We also have a few more voices coming on the 'Does church marketing still suck?' question.
And today… we've got another great discount and a giveaway. Double bonus.
YouTube for Churches Discount
Way back on June 30 we talked about YouTube For Churches by Sean Cannell. It's a great little book explaining why your church should be on YouTube. Sean even shared why YouTube is better than Vimeo.
This week only Sean is offering a big discount on YouTube For Churches, dropping the price to 99 cents. It's normally $5.95, so you'll want to jump on this deal.
Get Noticed Giveaway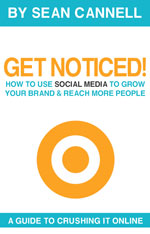 But a discount isn't enough. Sean also wanted to give away 10 copies of his short ebook, Get Noticed!: How to Use Social Media to Grow Your Brand & Reach More People. All you need to do to enter is tell us what Church Marketing Sucks has meant to you over the past 10 years (but we really don't need to bribe you, do we?). Maybe our name made you smile, maybe our resources helped you out in a pinch. Let us know. Here's how it works:
Post a comment below answering the question, "What has Church Marketing Sucks meant to you?"
We'll draw 10 winners at random on Thursday, July 31 to receive a free copy of the ebook.
One entry per person, legit email required so we can deliver the goods.
Congrats to our winners!
So what do you say: What has Church Marketing Sucks meant to you?