Editor's Note: Today we've got WordPress developer Steve Gliebe for our 10-year anniversary series asking if church websites still suck. We'll be discussing the broader question about church marketing all month long, so check out the other posts and share your thoughts. We're also giving away some of Steve's themes from churchthemes.com, so stick around for that.

When Church Marketing Sucks launched 10 years ago, only about half of churches had a website.
Today, the number is closer to 80%. While 100% would be ideal, the increase is reason for celebration. There is no shortage of pastors who can tell you about people who found their church because of their website.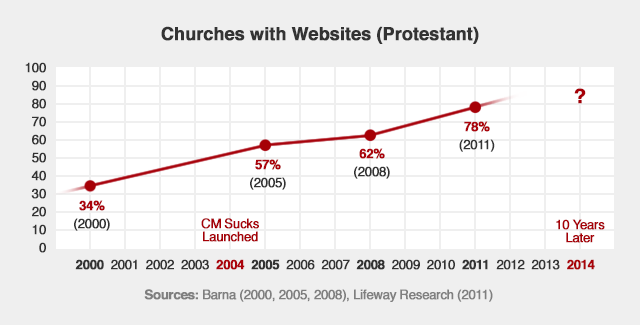 There is a problem, though—and it's widespread. While there are useful and beautiful church websites out there, it is easy to find church websites that are lacking. Meredith Gould stated the problem a little more clearly in her response to the 'Does Church Marketing Still Suck?' question last week:
"In my (rarely) humble opinion, church website design still sucks." -Meredith Gould
Let's be intentional about improving our church websites in 2014.
Common Church Website Issues
A church website needs to provide the information visitors are looking for. It also needs to create a positive impression.
Here is a list of things I often see done poorly. If you find something in this list that sounds familiar, now is the time to improve it.
Design is outdated or unprofessional. It's time for a redesign.
Design is not mobile-friendly. Make sure your new design is responsive (this is huge today).
Making updates is difficult. Switch to a better content management system (WordPress!), train staff and volunteers.
Location is missing or hard to find. Put it on the homepage and header or footer.
Service times are missing or hard to find. Put it on the homepage or header.
Few details about the church. You need to cover about, location, service details, what to expect, beliefs, staff and ministries.
Contact information is missing. Make an easy to find a page with all means of contact.
Essentials are hard to find. Utilize your homepage, menu, header and footer better.
Navigation is poorly thought out. Rethink your menus, test by asking people to find things.
Information is not current. Keep time-sensitive information on your radar at all times.
Events are not posted online. Bulletins are not read as much as they were 10 years ago.
Sermons are not available. Help potential visitors, sick people and travelers listen online.
Photography is low quality. Find someone with this skill or help someone learn.
Photography is not representative of the church. Don't overdo stock photos (here are some original vs. stock tips).
People aren't visiting the website. Use Google Analytics, learn how to promote your site.
Social media is not prominent. Put icons in your header/footer, social share buttons on content.
Child care information is missing. Last but not least, don't lose young families.
For more insight on improving your site, check out Getting Started: Web Basics (only 99 cents this month!).
There is no way to tell how many people never step through a church's doors because the website they visited was lacking information or gave a bad impression. The good news is that church website problems can be solved. Take some time this week to address a couple issues and schedule more time for other improvements.
We can do better and we should do better. Church websites don't have to suck.
Do Church Websites Still Suck?
Your turn: Do you think church websites still suck? Share your thoughts in the comments and be entered to win a church WordPress theme from churchthemes.com. Two winners will be able to pick the Exodus or Resurrect theme, including one year of support and updates (a $50 value).
Post a comment below answering the question, "Do church websites still suck?"
We'll draw two winners at random on Friday, July 11 to receive a free theme from churchthemes.com.
One entry per person, legit email required so we can deliver the goods if you win, [insert other legalese here].
Congrats to our winners!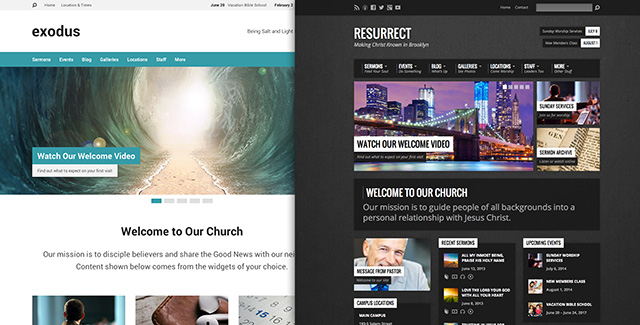 What do you think: Do church websites still suck?