Meredith Gould is a communication pro. She's worked in government, healthcare and church sectors, consulting, extolling and urging her clients to make use of social media. She founded the weekly #chsocm chats on Twitter and we've talked to her before about getting started in church communication. Now she's written the book on social media, The Social Media Gospel: Sharing the Good News in New Ways (read our review). We peppered Meredith with some questions about the book:
Why should pastors bother with social media?
Meredith Gould: Very short answer: Since social media, in some form is here to stay, church leadership, including but not limited to pastors, need to learn why it's so powerful for ministry.  I wrote The Social Media Gospel to help them learn and understand "why to" embrace social media. Why, pray tell, would any person of faith and goodwill choose to ignore these powerful tools for ministry?
You make the point that the rapid change of social media is one thing that church folks find off-putting. How can churches that don't like change embrace such change-addicted platforms?
Meredith: The whole notion of "change" relative to social media is so complicated that I can't unpack it all here. In fact, I'm thinking this is a keynote address-worthy topic but to the extent that I can put it simply:
We need to distinguish among types of change before we can talk about what church people are finding so off-putting. Are they really upset about rapidly-changing functionality or is their resistance to cultural and institutional change?
These different, albeit at times overlapping, types of change tend to cause church folks to collapse conceptually during conversations about social media. As a result, easy-to-address change gets near-hopelessly confused with more difficult-to-address fears about systemic change. Making and sustaining distinctions among types of change might help reduce resistance to social media.
You say print is not dead, it's simply being transfigured. Print can obviously point to social, but what are some ways it can go the other way (social informing and improving print)?
Meredith: Data from the Pew Internet & American Life Project reveals a consistent increase in the percent of Americans who own and use electronic book reading devices, tablet computers and smartphones.
I cite these data to make a case for how digital technology has changed the way we read. Printed content is as likely to be read on electronic devices as it is in a book or magazine. As a practical matter this means printed content must be written and produced to account for this new way of reading—shorter text, sentences, paragraphs.
I also think the rapid ascendency of visual social media (e.g., Pinterest, Instagram, Vine) indicates an increase in the numbers of visual learners.
Decades ago, print publishers pretty much abandoned line and photo illustration, especially for adult fiction, because it was prohibitively expensive to print. Perhaps illustrations will be restored to print and not relegated to children's books or graphic novels.
I've included a chapter about learning styles to help people understand the key variables shaping how we understand social media.  I hope readers will use that knowledge to understand the role social media plays in shaping life as we know it. Print media is one example of this.
The Social Media Gospel has a chapter on LinkedIn. What can churches get out of LinkedIn? Is it helpful to have a group for your congregation? 
Meredith: First, it's important to distinguish between an individual account and a company page on LinkedIn. Groups are something else altogether.  Again, these are "how to" details easily learned. The real issue is strategy: what do you want to happen as a result of using LinkedIn?
I routinely counsel clergy against getting onto LinkedIn until they get clear about their goals for doing so. Ministers (ordained and lay) who provide consulting services could benefit from joining LinkedIn. Your local parish priest? Not so much.
In my chapter about LinkedIn, I suggest its greatest benefit can be found in joining existing groups that add value to your professional life. It's especially valuable for those of us who work in the ministry of church communications because of the access it provides to industry professionals in the secular world.  In my own case, I joined and rely on the great content and conversation I receive via the Social Media Today group.
You also have a chapter about Pinterest. Do you have examples of churches using Pinterest well? What if my church has a complete lack of good images? No budget, few good photographs. Can we still get anything out of Pinterest?
Meredith: Good news! You can set up and populate wonderful Pinterest boards with images posted by other people onto their websites or blogs; with images found while searching topics via Google images; or by repinning what others have already curated (i.e., gathered).
Examples? Sure! Feast your eyes and lift your spirit by visiting these Pinterest accounts:
Thanks to a call for information I launched through the Twitterverse, here's a curated list of churches on Pinterest provided by DJ Chuang.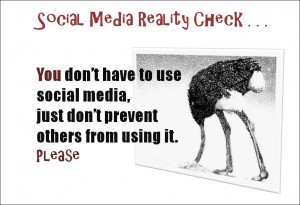 What should we do if our pastor doesn't care about social media? 
Meredith: Oh that's easy, give her or him a copy of this book!
All quasi-kidding aside, unless your pastor is a tyrant who prevents staff or volunteers from taking the initiative to move things forward, then go ahead and take the initiative on behalf of your church.  Remember this spiritual axiom: It is easier to receive forgiveness than it is to receive permission.
More: