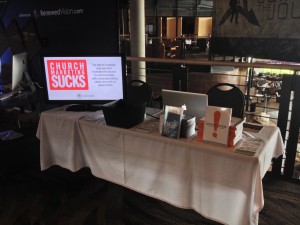 The 2013 Echo Conference wrapped up today in Dallas and we were there. The Center for Church Communication team staffed a booth where we were selling copies of Outspoken and Dangerous, handing out free mints and gum (keep that communication fresh!), and leaking word about our latest endeavor… the Certification Lab.
The Certification Lab is an intensive two-day training workshop followed up with six months of virtual meetups. It's an incredible opportunity for new communicators. The event is coming Oct. 14-15 to Nashville, Tenn. We've got limited space, so sign up today.
We'll definitely be talking more about the Certification Lab in the weeks to come.
Since Echo is the conference for artists, geeks and storytellers, there's loads of wisdom being dropped all over the place. Thanks to the glory of social media, you can revel in it all even if you didn't attend (like me). Below is collection of tweets captured from the three days at Echo:
(Try this link if it's cranky and doesn't load)

Thanks to everyone who stopped by our booth and said hello. Thanks to everyone who shared their insights on Twitter. And thanks to Jonathan Malm and the Echo team for putting on a great conference.