Earlier this year we launched what we hope will become our annual church communication survey. We plan to share the results over the coming year, highlighting different areas and topics as we interpret and share the results. We conducted the survey online using Survey Monkey, launching it in mid-March and running through the end of April. While it's not a scientific survey, it does give us helpful insights into the world of church communication.
We'll start by sharing some of the preliminary results about who we are as communicators and churches.
Glimpse at Church Communicators
First and foremost we can take a look at who took our survey. We had 766 total responses, though some of the questions had fewer responses as individuals could choose to skip some questions. A quick look at our church communicators:
Gender-wise we're pretty even: 51% female, 49% male.
Well-educated: 84% have completed bachelor's degrees or more. 22% completed graduate school.
Experienced: 22% have more than 10 years of experience. Though a big chunk, 11%, are just getting started. Here's the breakdown: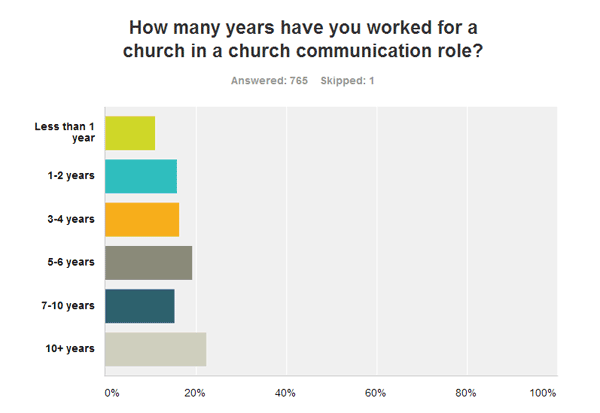 Full time & Volunteer: While most church communicators are full time (58%), there is a sizable volunteer (21%) and part-time contingent (17% combined). Here's the fancy graph: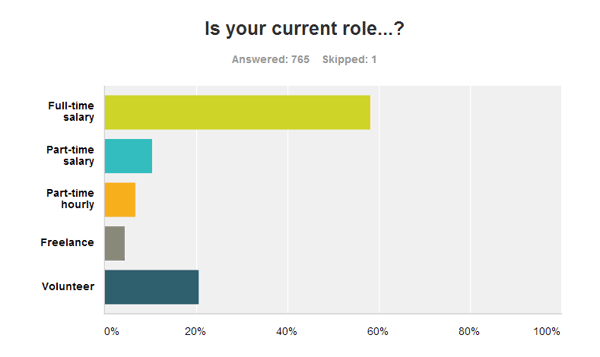 Design-savvy: We asked what other roles these communicators have had in their careers and designer topped the list. Low on the list? Copywriter and church pastor. Here's the breakdown: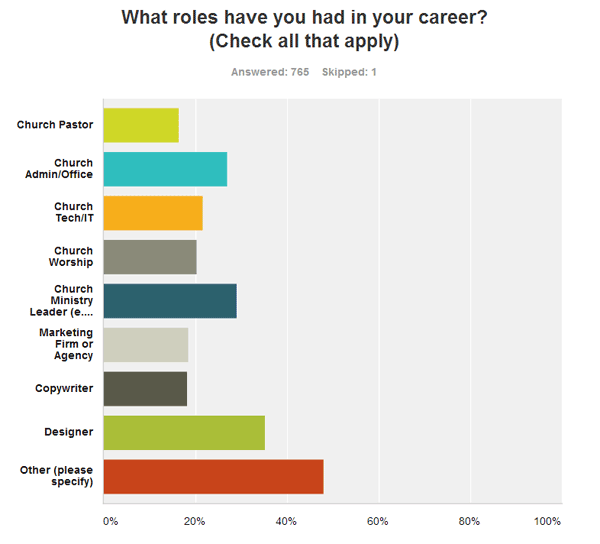 Glimpse at Churches
Next let's take a look at the churches represented by this survey.
Denomination: While several denominations had large minorities, including Baptist (15%), Methodist (12%) and Episcopal (11%), non-denominational took the top spot (27%).
Multi-site: 23% of churches in the survey were multi-site congregations.
Size: Nearly 40% of the churches represented had an average weekend attendance over 1,000. The largest concentrations were in the 200 to 1,000 range. Here's the breakdown: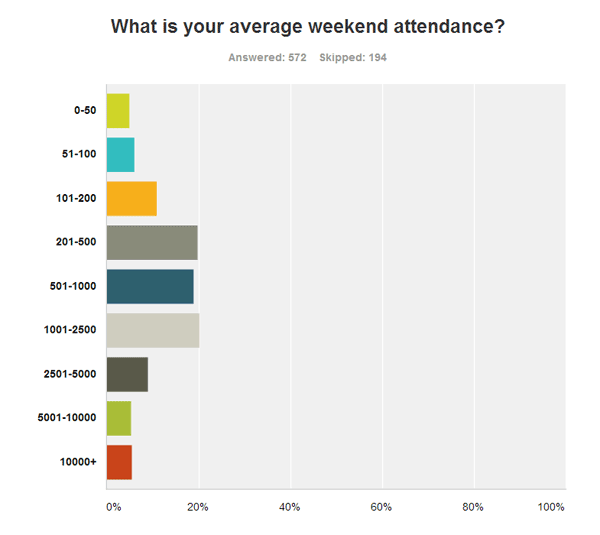 Varied roles: Another fun question looked at what teams or roles existed at a church. Video took the lead, even beating out the more traditional IT department. Here's how it broke down: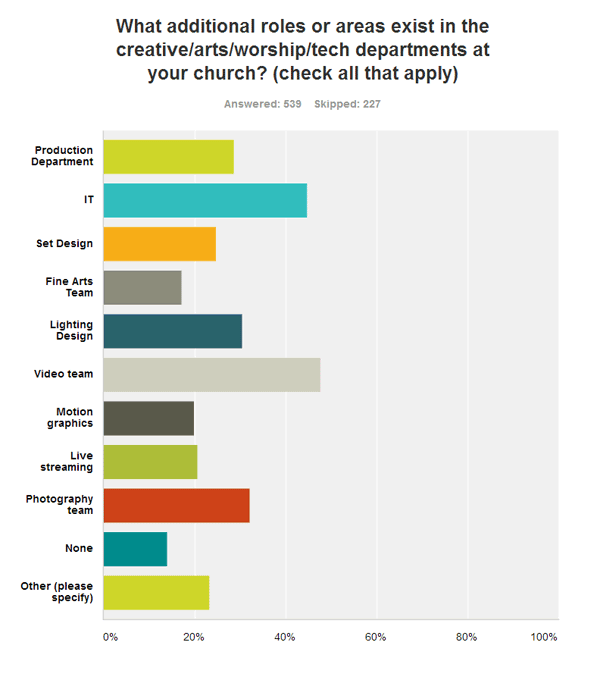 Thanks to everyone who participated in our survey. Stay tuned for more results throughout the year.