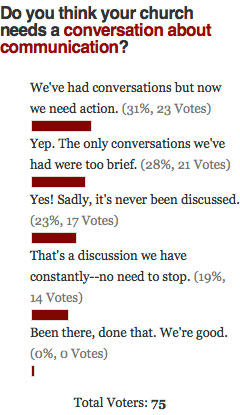 With the release of our first book, Outspoken: Conversations on Church Communication, we asked if your church needed a conversation about communication. The results give us some hope for the future of church communication.
The results were split evenly between churches that have had that conversation and churches that need to. 31% have had the conversation and now need action. Another 19% realize that they always need to be having that conversation. That's good news.
On the other side, 28% of churches have only had brief conversations and need more. Another 23% admit to never having the conversation at all. That's not-so-good news, but it sounds like churches are realizing they need to move in this direction.
And perhaps most encouraging, nobody had the snide answer of, "Been there, done that. We're good." At some level everybody seems to realize the importance of having that conversation on church communication.