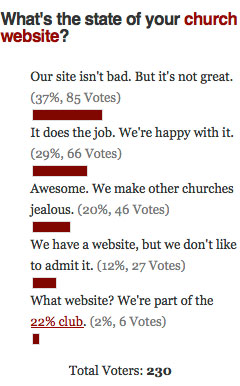 We finished up our Church Websites 101 series last week and along the way we asked about the state of your church website.
Incredibly, nearly half of you were satisfied with your sites. Either it's doing the job and you're happy with it (29%) or it's awesome and you make other churches jealous (20%). Clearly you folks aren't the ones who needed this series. And it shouldn't be too surprising that our site is filled with the kind of people who know what they're doing online.
The largest single group were the 37% who feel like a middle schooler about their website—insecure. It's not bad, but it's not great. Look over our series and make sure you have the basics covered. But you might need more than the basics. Ask questions. The Church Marketing Lab would be a great place to start.
Finally we come to the two groups who really need this series. There's the 12% who have a website but don't like to admit. You folks need to restart your sites. It's going to be some hard work, but you can do it. Finally we have the 2% who don't have a website at all. They're part of the "22% club," the percentage of churches nationally that don't have websites (which tells you how skewed our audience is). Now's a great time to change those answers. Come up with a plan, start small and get it done.
So nationally 22% of churches don't have websites, but around here it's only 2%. That means we're not reaching the vast majority of folks who could really use this series. Do everyone a favor and share it with them.
More Church Websites 101: