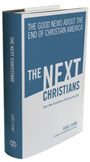 "Seven years ago, I was 27 years old and embarrassed to call myself Christian." Gabe Lyons certainly knows how to make a statement.
In his latest book, The Next Christians, Lyons begins to explore the new cultural landscape that followers of Jesus must face in the 21st century. Lyons contends that Christians have dug themselves a deep cultural hole that will take a new way thinking to dig out of.
Lyons cites numerous examples from his own life where he finds his experience with other Christians to run contrary to Christ's call in the pages of Scripture. He also cites examples of other people in his life—many whom he cares deeply for—who have been turned off to the call of Christ due to the negative, close-minded and hateful worldviews of other Christians. Lyons' whole premise of the book lies in the idea that in order to be effective ministers of the gospel in the years, decades and centuries ahead, the next Christian will need to emerge.
The next Christian possesses six characteristics that distinguish them from the hard-headed stubbornness found in the examples Lyons' cites throughout the book. They are:
Provoked, not offended.
Creators, not critics.
Called, not employed.
Grounded, not distracted.
In community, not alone.
Counter-cultural, not relevant.
Lyons spends the majority of the book unpacking each one of these identifying characteristics directly, if not overtly.
One particular idea that struck my curiosity was the idea of creating culture. Somewhere in between the Enlightenment and post-modernity, the church gave up her position as a cultural influencer. She abandoned her role as gatekeeper to what would and would not be beneficial to any given culture. She abandoned this role because, as Lyons points out, she became a critic instead of a creator. She only voiced what she was against rather than what God was for. This, as anyone with a whiny co-worker can attest, can only be listened to for so long.
Lyons suggests that the next Christians will be ones who move the culture that they find themselves in. They make the culture better just by being in. Christians and non-Christians alike notice that the next Christian is able to skillfully weave in between sacred and secular, pinpointing the places where God is at work because God, as the next Christian knows, is always at work. Lyons sums it up nicely:
[The next Christian] sees in God's original job description for mankind that they have a role in partnering with God to fill the earth—creating culture that affirms his values of goodness, truth and beauty … Based on a common good mentality, these Christians aren't confounded by only thinking about how to get people "saved."
The Next Christians is a balanced, insightful and proactive response to the current Christian backlash we're experiencing in the United States. Lyons skillfully lays out a cultural road map for the next Christian to walk upon, all for the sake of transmitting the gospel in a culturally relevant way.