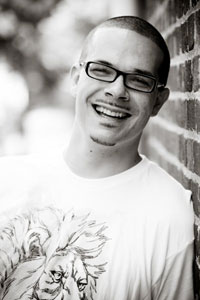 Today we're talking with Shaun King, a vocal pastor and activist who has used Twitter and Facebook to rally causes and get results. He's the pastor of Courageous Church in Atlanta, a father, husband, grad student and founder of aHomeInHaiti.org, an organization that literally came into being in response to the earthquake in January.
Tell us a little about aHomeInHaiti.org—what's the basic plan, how are you accomplishing it, etc.?
Shaun King: We formed aHomeInHaiti.org to meet a need we felt we could meet better and quicker than the governments of the world. Immediately after the earthquake we sent doctors, computers and other aid to Haiti faster than they did. We provided logistics for rescue efforts, provided medicine to hospitals and generally found ourselves meeting urgent needs with little impediment.
Once we learned that temporary shelter was the most pressing need, we quickly launched our web project, aHomeInHaiti.org, to empower regular people to buy tents. This was Phase 1 and lasted from February-June. We sent over $1.5 million of tents to Haiti.  That's more than any other aid organization in the world and just less than two national governments.
We are now moving away from tents and into Phase 2 of our plan which is to build permanent homes, orphanages, schools and churches. We raise the money and identify trusted construction and organizational partners in Haiti to complete the projects alongside our teams.
Is this something you're doing on your own initiative, or is it a project of your church?

Shaun: Both and more. aHomeInHaiti.org started out of my own desire to be the solution for hurting people, but Courageous Church has been central to its success. Many of our key volunteers are local. We use our church offices as storage and as our command center. Teams from our church have gone to Haiti to deliver tents.
However, because of the amazing power of social networking, some of our most gracious volunteers are not even in Atlanta and most aren't even Christians. They come from all around the world and tweet and give and even deliver tents in Haiti. When I last traveled to Haiti, friends from Twitter and Facebook that I never met were absolutely essential during the entire trip.
This is a pretty huge project. Are other churches pitching in?
Shaun: Absolutely. So many churches have been central to our success. So much so that I don't think we would have succeeded without their support. The very first donation we had came from Pastor Dino Rizzo and Healing Place Church in Baton Rouge, La. Victory World Church in Norcross, Ga.,  has provided a ton of support. They have been our primary shipping and storage partner and have helped us deliver at least a third of our tents. Other churches all around the country made very significant donations and have supported us from the beginning.
Why are you doing all this?
Shaun: The earthquake in Haiti may be the worst natural disaster of my lifetime. The level of despair is hard to imagine—yet Haiti is closer to Miami than Atlanta is to Miami. Haiti is our neighbor.
Personally, this disaster just gripped my heart in a way that even surprised me. My wife and I have friends from Haiti. Our church has members from Haiti. I saw the despair on Twitter in ways that made it seem like a local disaster.
Social networking makes our world so much smaller. When I saw tweets from people begging for help—I felt like they were asking me for help. Within days, they were. Once I stepped up, people in Haiti started bombarding me with heartbreaking requests for help to locate loved ones, rescue children and more. For the first two weeks after the quake, I often worked for 48-72 hours straight. I lost 15 pounds.
What has the response been?
Shaun: The response to our project has been amazing. Eva Longoria became our official spokesperson. We were on The Ellen Degeneres Show, Jimmy Kimmel Live, Lopez Tonight, Access Hollywood and more. Four of the top 10 Twitter users in the world (like Ellen, Kim Kardashian, Ryan Seacrest, etc.) asked their users many times to support our cause. Furthermore, regular old people just poured their hearts out for this cause day in and day out.
At times you've been tweeting passionately and repeatedly about this project. What do you say when people suggest it's a bit much?
Shaun: I am perfectly willing to make a fool of myself for a cause I believe in. The first time I saw that my passionate tweets could literally save lives, I was hooked. On several occasions I had the U.S. military, U.S. senators, UNICEF, and leading journalists like Anderson Cooper and Ann Curry contact me specifically because they saw my tweets. Out of this we saved lives.
In my opinion, while I may take it to the extreme, most other people are on the opposite extreme and seem to lack any recognizable passion about any causes locally or around the world.
Let's talk marketing. What has this meant for your church? Are people checking out Courageous Church because of aHomeInHaiti.org?
Shaun: Our church has grown in many ways because of aHomeInHaiti.org. We have grown deeper because of the service people have given, but our reputation has become well-known locally and even internationally. Many people that would normally not touch a church with a ten foot pole, feel differently about Courageous Church because they see the work that we do.
Doing social justice as marketing has been criticized as being crass, but in a nutshell these kinds of social justice campaigns are an incredibly powerful way to communicate the gospel. How has the gospel been furthered through aHomeInHaiti.org?
Shaun: I don't think doing social justice as marketing is crass at all. Here's how I think of it, what's more crass—spending $5,000 a month on a highway billboard or spending $5,000 on causes that change peoples lives and then generate publicity and awareness about your church? We did a study that found that our church has received over $500,000 in free publicity because of our good works since we launched in 2009. All of it came because of the good work we do. We have been on every news station in Atlanta multiple times—often during prime time for very long segments. We have been in USA Today, the Wall Street Journal, on MSNBC, The Today Show and much more.
Your church has done another innovative project—FreeBreakfastChurch.com. Can you tell us a little about this project and the response?
Shaun: We launched FreeBreakfastChurch.com and started providing a huge free breakfast at our church every Sunday morning soon after our church launched in January of '09. We considered sending out mass mailers and doing other traditional ways to market our church, but decided those ways didn't really fit our style. We decided instead to spend our marketing budget on breakfast every Sunday. It is now an essential part of our identity. Not only do our volunteers get fed during the middle of a long day, but homeless people and families, struggling middle class folk, and doctors and lawyers all sit down together and eat a meal. It's a beautiful thing!
And the most important question: Do you have free bacon every Sunday as a part of that free breakfast?
Shaun: Haha! Absolutely. We serve a huge, full-service, free breakfast every Sunday. Bacon, grits, waffles, fruit, eggs… the works!
Sounds tasty! Thanks for taking the time away from all your work to talk with us, Shaun.
If you'd like to help you can visit aHomeInHaiti.org and donate to their current effort to raise $300,000 to build the Miriam Center, a home and school for disabled orphans.