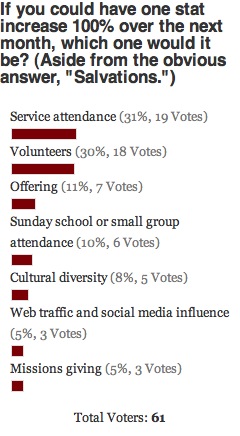 We're no stranger to talking about statistics. No, really. We did a 9-part series on it. But the only statistic you can keep track of isn't the number of butts you're putting in pews. We wanted to know which statistic—aside from the church answer of "salvations"—that you would most like to see increase 100% over the next month.
The winner was our old friend of "total attendance." 31% of you said that's the place you'd most like to see improvement. But it was only by a nose, as 30% said you'd prefer to see the number of volunteers in your church grow. There are likely two ecclesiologies at play here, usually described as "missional" and "attractional." But these are the two runaway leaders for your churches.
The next group of answers are a little less traditional. 11% of you take a more trickle-down approach, knowing that you could do what you wanted if you just had the budget. And 10% would prefer to see Sunday school or small group enrollment go up, getting your current attenders more deeply involved.
But we can move even further from traditional answers for that. 8% would prefer seeing a boon in cultural diversity, while 5% would most want your web traffic and social media influence to rise. Welcome to the future. And a final 5% of folks that responded would like to see their missions giving improve the most. Three cheers for the purity of heart and general kindness behind those answers.
This week, we're revisiting the Kiwi church that copied a beer company and came out with a free ad campaign and asking for your thoughts on this story. Vote on our home page now.