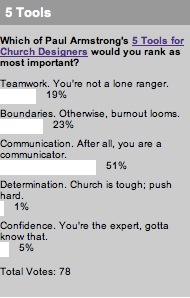 Recently, Paul Armstrong wrapped up a thoughtful series for graphic designers in service of churches: 5 Tools Every Church Designer Needs. It's a six-part repertoire of high-level skills every designer should bring to the table to keep their work and relationships healthy. But which of the five do you think is most important?
51% of you pander to the pollsters (Hey, we are a subsidiary of the Center for Church Communication) and go with communication. Communicate well and double-check the communication of others to make sure everyone is on the same page before you all waste time.
The next group are the 23% who think boundaries are the most important tool for designers. That's a group likely consisting of designers who have been burned by a lack of boundaries and pastors who exceed in applying their pastoral care for their own staff as well.
After that? 19% say teamwork is the most useful tool in the shed. You're not a superhero, a long ranger or simply a longer, so leverage the power of your team for the best results.
In surprisingly poor showings, determination and confidence nabbed 1% and 5% of the votes, respectively. We doubt anyone would argue that these tools aren't valuable, but it looks like the masses say they're ancillary to other tools Paul lists.
This week, we're hitting a hot-topic issue from the Easter extravaganza department: A Texas church gives away a million dollars in swag for Easter, including 15 cars. Your thoughts? You know what to do. Hit the right sidebar to vote in this week's poll.