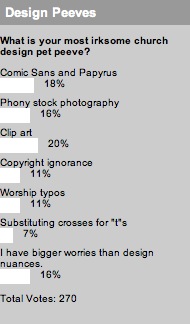 This week we took a good, long look at the pet peeves we all love to hate. I'm sure the poll was met with cringing and gnashing of teeth, with all wishing they could select multiple options. Unfortunately, you could only choose the most irksome error, and here's how you voted, in a surprisingly tight race:
The winner? Clip art! You don't like to see "designs" like these popping up in church materials. They're funny on the Internet, but things get serious when they make their way into real life. Just behind clip art are Comic Sans and Papyrus–the favorite fonts of churches across the country. But really, there's nothing funny about Comic Sans. Plus, Jesus hates Papyrus.
Next up are the 16% of you who hate phony stock photography. Your church looks like a whitewashed cross-section of Average Joes, but your stock photography has six friends of mixed races playing cricket. And rounding out the artistic answers, 7% of you are most peeved by churches like "Turtletop Town Church in Tottlesville, Tennessee" who have eight crosses in their logo–one for each "T."
Beyond that, 11% of you are tired of churches ripping off art. They're copying music or designs or anything they can get their paws on, and they're not following copyright law at all. Another 11% of you are tired of churches messing up the music lyrics. There are only a handful of words up there, they ought to be able to get them right.
Finally, 16% of you are above all of these pet peeves, and you have bigger things to worry about. Bummer, design pet peeves sure are a lot of fun.
This week, we're looking to hear: What aspect of your church building would you most like to give an extreme church makeover?