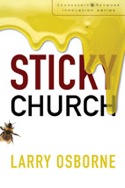 Earlier this summer, our friends at the Leadership Network sent us a pre-galley of Larry Osborne's latest book, Sticky Church. It comes out next month and you're going to want to get your hands on this one.
First things first, yes, Larry Osborne is a mega-church multi-site pastor. He started over 20 years ago with 128 people at North Coast Church in San Diego and today they're hovering around 7,000. But before you judge this guy as just another mega-pastor with some revolutionary model you can play along with at home, give this conversation a consideration.
The premise of Sticky Church is that we have "become so focused on reaching people that we've forgotten the importance of keeping people." If ever there was a need for this perspective within CFCC/CMS circles, this books brings it. Says Osborne, "Churches need to be stickier" and "stickier churches are healthier churches."

Sticky is broken into three parts. The first section makes well the case for why a sticky church matters and what gets in the way of becoming one. Hint: advertising and marketing can actually hinder a sticky church pursuit. Gasp! The last two sections are meant to guide church leaders through application points of how to become a sticky church. The answer to becoming a sticky church, suggests Osborne, is through sermon-based small groups. Again, before you write this off as another Hybillow-Warrensaddle approach to church growth, listen up.
We're spending way too much time on getting people in the doors of our churches. Osborne is not apposed to marketing and advertising, but what he learned when he started at North Coast was they were acting more like the new restaurant that opened strong and closed weak. The restaurant got a packed house for their grand opening, but they forgot to train the servers or pay attention to food quality. Few came back to visit because the experience didn't live up to the expectation.
So Osborne decided to stop trying to grow the size of North Coast and instead focused on growing the people already a part of North Coast. The result, as they learned year-after-year, and in spite of their growing size, was that more people came and more people stayed because they focused on making disciples, not filling seats.
May the lessons in Sticky Church help your church become more sticky and less stinky.