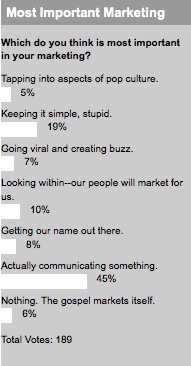 Last week, we wanted to know which aspect of your marketing was most important. We provided plenty of choices, so let's see what you had to say:
45% of you say the most important part is actually communicating something. Too many folks are talking just to talk, and you think you'd better have the guts to have some meat behind your marketing. One out of five of you think keeping your marketing straightforward and simple is most important.
Apart from those two biggies, there are just a smattering of the rest of you who feel each other choice is most important for you. Whether it be tuning in with popular culture, name recognition, creating buzz or focusing internally, less than 10% of you feel these are the most important parts of your marketing.
Oh yes, and there are 6% of you who feel none of these are the most important–the gospel markets itself.
This week, we're asking, does your church team wear staff shirts?