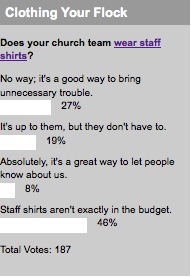 Long, long ago, I told you a story of a jerk in his corporate shirt who made his company look like a fool. So what about when your church staff are bad tippers, rowdy complainers or law breakers? Are you using them as a billboard so your church's image takes the heat?
8% of you have a church staff that proudly sports your logo day-in and day-out. You're a bold minority who isn't afraid of the way your own people will act in public. Another 10% of you make the option available, but they don't have to if they don't want to.
Over a quarter of you that responded think you're opening Pandora's box by letting your staff wear church shirts. Surely they'll cut someone off in traffic, stub their toe and curse aloud or be spotted dancing in public on their lunch break.
Oh yeah, and there's nearly half of you who don't have room in the budget for church staff shirts. Here's to you, average church staff who is too broke to face these problems.
Want to solve this problem? Never hire someone who would act in a way to muddy your church's name. And hire staff that if they ever do, aren't afraid to apologize for their actions.
This week, we have a question for all our bibliophiles out there. Which of Church Marketing Sucks' 9 must-read books have you read already?