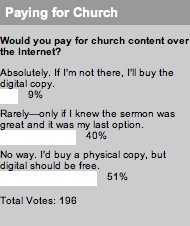 As you browse the Internet, you're likely to find tons of church resources. Some are free, some are not. Some are free digitally, but not physically. We asked how you felt about this and what you would pay for, and you let us know.
Those of you happy to buy the digital copy if you miss out on the actual experience are in the vast minority. Only 9% of you would pay for a sermon on a regular basis. I assume this is within the bounds of reasonable costs.
Another 40% of you find yourself in the "maybe" camp. You might try and find a friend who recorded it on their cell phone, look to illegally download it on the Internet or raid the church offices. But if the sermon was great, and there was no other way to get your hands on it, you would pay up.
The majority of you, 51%, wouldn't pay up for a digital copy. You're OK with paying for the physical copy, but digital should be free. After all, the cost to the church is minimal, and you shouldn't be punished for staying home with your sick kids.
This week, we're asking, does your church provide open wireless access for anyone to use?