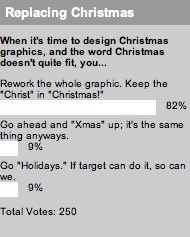 Last week we rekindled the age-old debate of keeping the "Christ" in "Christmas." I also collected data for my forthcoming book, "How To Write Awful Polls." Here's what you had to say:
82% of you are willing to put up your fists and fight for the word "Christmas." If a design idea came up that couldn't fit the whole word, "Christmas," then you would scrap it. No "Xmas" or "Holidays" for you.
9% of you would drop the "Christ" in favor of an "X." After all, it is a sideways cross, right?
A final 9% of you would go with the word "Holidays." You can kill two birds, Christmas and New Years, with one stone, and it's non-offensive. Plus it works better with your design.
This week, we want to know which church marketing mistake have you seen your church make most often?