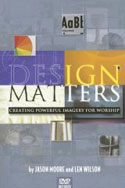 For anyone involved in the world of church design, marketing and branding (whether new or a seasoned pro), I'd like to recommend a book for you to check out called Design Matters: Creating Powerful Imagery for Worship by Len Wilson and Jason Moore of Midnight Oil Productions. In my class at MinistryCOM last year, I talked about "leading up" and being proactive to pass on good reads to your pastors so they can better appreciate what you do. This book is well written resource for designers, but also great for a pastor to more fully understand and appreciate design, designers and the work that goes into what you do.

Topics covered in this book include how to communicate effectively in today's image-driven culture, how to reach a world that is conditioned by television and video games, and learning to create powerful images that will move your congregation through meaningful worship experiences. This book helps both pastors and design teams think and grow as visual communicators.
The book is about as close to "Design for Dummies" as you can get and I don't mean that in a negative way. I'm a big fan of the " … for Dummies" series. Chapters like "Terms to Learn" and "The Basics of Design" are must-reads for your pastor and will go a long way towards improving your respect, appreciation and communication with one another. To sharpen your skills, the book addresses eight principles for effective design, including color, composition, fonts and more, and how to bring it all together, including extensive resource lists. Also included with this book is a practical and hands-on DVD, which is a great accompaniment to the book. The DVD features a series of step-by-step tutorials for putting together an image for worship.
No matter your experience and level of design ability, I think it would be a good read for anyone on here at CMS. I also encourage you to get a copy for your pastors and encourage them to read it.