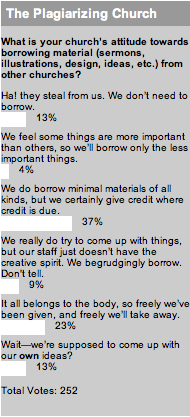 Last week, we asked what your church's philosophy is on borrowing materials. 252 of you weighed in, and after a week at the polls …
37% of you took the high road. You borrow materials, but you give credit where credit is due. I think when anybody has their materials used by another church, this is all they'd ask for.
23% of you employ what optimists would call "The Acts Model." They met together, and shared all things in common. Make sure the one you borrow from is all right with this, or unfortunately, Joe Schmo's Law Firm might come knocking at your altar.
13% of you hold a monopoly on new ideas, and you don't need to borrow. Congratulations. While the other 13%–well, blessed are the poor in ideas, or something like that. You only steal.
9% just don't have the creative prowess to make it happen, but cheers to you for recognizing a problem. While the final 4% believe it's acceptable to steal, situationally (Christian pirates in denial).
As always, we'd love to hear from you in the comments. How do you effectively get credit? Need to beg for some design help? What do you think ethically about the issue?
This time around, we gear up for Passion Week by asking just what your church is up to. Don't forget to weigh in!