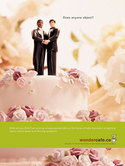 With membership declining as much as 20% in the last decade, the United Church of Canada needs to try something drastic. So they've launched a $9.3 million ad campaign. The ads touch on hot button issues, including sex and gay marriage. The ads direct people to a web site, wondercafe.ca, that attempts to engage people in conversations about spiritual issues and the big questions of life. They site also offers a church locator.
The campaign will run for three years and is backed by more than a year's worth of research and testing. It's also more than just advertising. According to a Q&A about the campaign, almost half the $9.3 million pricetag includes support and training to help local congregations be more open and welcoming to visitors.

The denomination has had to defend the campaign against those who think they money could be better spent elsewhere:
"It was a tough decision for the church because we know we live in a world in need and the United Church has always had a strong commitment to justice and social issues," [the man heading the project, Reverend Keith] Howard, told The Globe.

"I think, though, in the end the church sees this as an investment in our being able to equip a church that will be able to continue and grow in that kind of work."
It's great to see a denomination trying to engage the broader culture. The church should be at the forefront of these questions, and sadly we're not. It's even better to see them investing so heavily in helping their churches be more welcoming. That's probably (more than) half the battle.