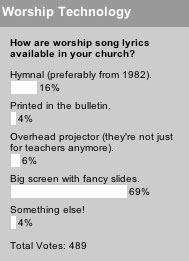 Last week we asked about worship technology–specifically how the lyrics to worship songs are made available to the congregation. A whopping 69% use a big screen with fancy slides. Other methods include hymnals (16%), overhead projectors (6%), printing lyrics in the bulletin (4%) and some other method (4%).
Perhaps it's because I've attended low-tech churches most of my life–the church I grew up in used an early 1980s hymnal and my current church prints songs in the bulletin–but 69% using a big screen seems high, especially considering the costs involved. It could be that our audience is slanted towards high-tech churches. Or it could be that I'm underestimating the church's ability to adapt to the latest technology.
I guess the real question is if churches are putting those big screens to work, or if they're just slapping lyrics on cheesy stock backgrounds of waterfalls and sunsets.
This week we ask about Lent, the 40 days before Easter that are often marked by somber reflection and fasting (thus giving something up).
Update: Or I suppose we could look at a recent church technology survey from September 2005: 62% of churches uses a large-screen projection system.