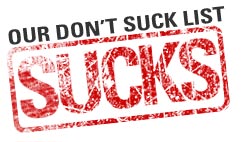 We've come to the conclusion that our 'Don't Suck' list actually sucks. The goal was to list companies, organizations and resources that could help your church not suck. In reality that's not as easy as it sounds.
So the 'Don't Suck' list is taking a break. We'll keep the old one around, but instead of keeping it up to date we're going to focus on coming up with a new list. One that's better, faster, stronger.

The old list started out as a good idea, but it just couldn't keep up:
First, we have to decide who makes the cut and who doesn't. And who are we to decide that? We're not trying to be self-appointed arbitrators of cool.
Then we tried to pair down the list by restricting it to companies that work exclusively with churches. It seemed like a good idea: There are literally thousands of companies that are willing to work with churches but don't work exclusively with churches, and we can't list them all. But that sends the message that only church-focused companies can help your church, and that's not true. That approach encourages a ghetto mentality and actually penalizes companies that have a healthy balance of church and non-church clients.
It's a lot of work. Well, adding a single item to the list isn't a big deal, but it becomes a problem when you get a half a dozen e-mails per week asking to be added to the list. And our big idea of profiling every company on the list? Yeah, that didn't go so well.
So we're acknowledging that the old list sucks and rather than keep working on it, we're going to build something new. We've got some great ideas for it, including letting companies submit themselves and offer their own write-up, and balancing that by letting the public offer their perspective on each company.
We think it's a great idea anyway. But who are we? If you've got a good idea for improving the Don't Suck list, we'd love to hear it—comment away.