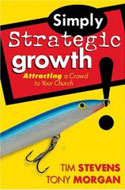 The latest issue of Rev magazine has an article from Tim Stevens and Tony Morgan of Granger Community Church in Granger, Ind. adapted from their book Simply Strategic Growth. The article includes a number of ideas for drawing crowds to your church, including:
Address specific needs. Like marriages, raising families, money, fulfillment, etc.
Entertain people. I can hear the gasps at this one, but they make a good argument.
Make children a priority. Granger is well known for their incredible children's ministry. Sponge Bob would be jealous.
Raise the energy level of worship. Though I have to disagree with their suggestion to turn up the volume. Background music that's too loud puts me on edge and hinders my ability to converse.
Give people hope. Grace, not condemnation. People should leave challenged, but encouraged.
And the idea I find most intersting: offer multiple services regardless of how full your church is.