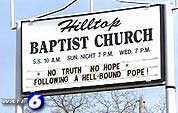 Hilltop Baptist Church in Newport, Tenn. has been getting lots of attention for a statement on their church sign that appeared a few days after the funeral of Pope John Paul II: "No truth, No hope Following a hell-bound pope!" On the other side it reads: "False hope in a fake pope."
Pastor Clive Franklin said people are misunderstanding the sign and that it was not meant to be offensive to Catholics. "Hell-bound pope" is supposed to be a cheery phrase for Catholics? Um, try again.
An assistant pastor at the church said that the sign's point is that people shouldn't put their hope in a pope. He reiterated that people are misunderstanding the sign and said the church isn't trying to say the pope is in hell. So what does "Hell-bound pope" mean? He was going to hell, but got distracted and ended up in heaven instead? Um, try again.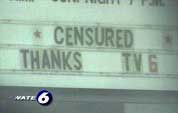 Just about everyone interviewed has blasted the church sign, and under increased pressure, especially from WATE 6 News, Hilltop Baptist changed the statement on their sign. Now it says "Censured, Thanks TV6." Ooh, the bitterness comes out.
I'm going to go out on a limb and say this isn't the best way to represent your church to the community.

A church sign is rarely a good place for public discourse. Now I try to be an understanding guy. Maybe you think you have a valid point—the church is often called to make unpopular statements. But is blasting those statements in the most offensive manner possible from a public sign limited to a phrase with no possible chance to explain your stance a good idea? I doubt it.
How about a sermon? A study series? An op-ed piece for the local paper? How about a less offensive title like: "Pope Pointed to Jesus" or "Jesus: He Saved the Pope, How About You?" (neither of which are very good, but you get the idea). Offensiveness can be effective (we should know), but unintentional offensiveness is poor planning.
And for the love of all good things, don't blame your poor choices on the local news. (links via CT's weblog)