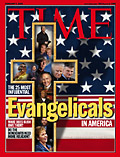 This week's issue (February 7) of Time magazine featured the cover story "The 25 Most Influential Evangelicals in America". Considering the Time team were measuring influence politically, I think they did a pretty good job with their list. It's nice to see the usual suspects (Jerry Falwell, Pat Robertson, Benny Hinn, etc.) absent from this list because quite frankly the influence of those "kinds" are tainted by the tawdriness of television. (Enough said).
After reading the lead-in article in which Time attempts to weaken the muscle of evangelicals in America by asking the question "What does Bush owe the religious right?", I am renewed in my sense of how much political influence local pastors/churches can have on their communities.
Who are the 25 Most Influential Evangelicals in your city? Are any of them in your church? Is there anybody in your church who you can sponsor to be on such a list?
Where is church marketing in all this? People love causes, especially causes that are tangible and somewhat tenacious. A better country starts with better communities. How is your church bettering your community?